An all-round artist, Massimo Modula used fabrics as canvases on which he paints freehand, following his inspiration, to create unique products that are genuine works of art.
Le creazioni
Massimo
Modula
Artista a tutto tondo, Massimo Modula, usa i tessuti come tele per dipingere a mano libera seguendo la sua ispirazione e da vita a prodotti unici, vere e proprie opere d'arte,
Massimo Modula was born in Turin in 1969 but has lived in Rimini since 1979. He is a visual artist, a musician and a writer of songs and poetry. He has appeared in performances in which music, words and live painting combine in an alternation of songs and improvisation. Those who have had the opportunity to see Massimo paint have been amazed and struck by his ability, manual skill and creativity.
We use 100% natural fibres, carefully selected for quality and resistance to wear and washing. These come solely from Italian suppliers, and some are hand-made.
Created using a 17th century recipe and natural ingredients that give unique bright colours, our inks are indelible and can withstand repeated washing, including by machine.
Every item is entirely hand-made and unique, and every detail is the distinctive mark of the work of a master artisan.
Our energy use is minimal, almost as it was in the 17th century, so all our products are low-impact and sustainable.
His creations are a distinctive feature at our print shop. Massimo Modula creates his works by following the inspiration of the moment and painting freehand. His only tools are brushes, paints and his talent. Every creation is a unique artwork that can embellish your home, like his table runners, or be worn, like his t-shirts.
The canvases for these artworks are 100% natural linen, cotton or hemp. Some of them were hand-made by Romagna women using looms, a craft that disappeared decades ago. These are hardwearing fabrics, designed to last over time and with their own history: in Romagna country homes, every family made their own fabrics on the loom. They are alive in some way, because they speak of lives lived, and continue to give us pleasure today.
The colours used by Massimo Modula are created in our workshop, following the original 17th century recipe to make pigments that are indelible and resistant to repeated washing, including by machine. The ingredients are natural substances which give bright, unique colours: the main ones are rust, blue, green and red.
Every product is born of Massimo Modula's creativity and the spontaneity with which the fabric absorbs colour; every stage of production is by hand, meaning that every item is unique and any detail that might appear as a flaw is in face a distinctive mark of a master craftsman at work.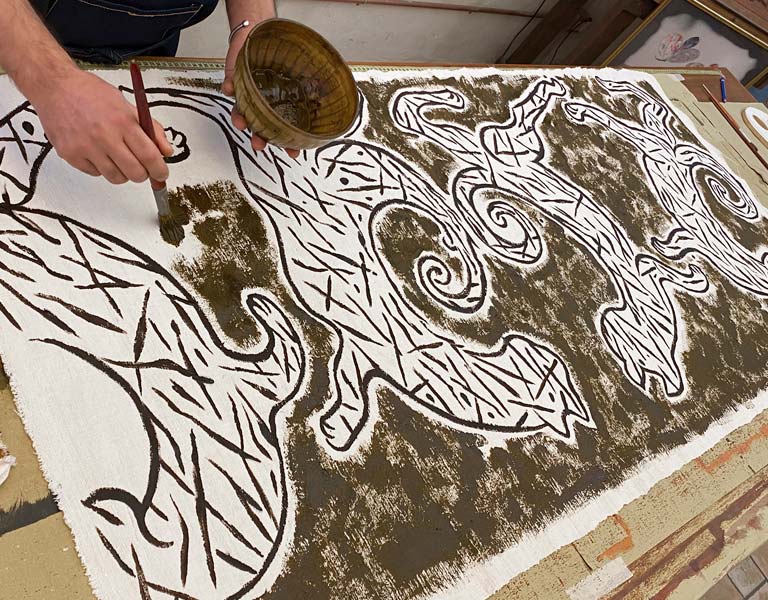 As a musician, Massimo Modula has produced three albums, two with the band Baiafonda (Il Sognatore, 2005 and Controvento, 2008) and the last as a soloist (Ad occhi aperti/2017).
Antique hand-printed fabrics
exquisite artisan objects
The stages of the process
For some of the items, the stages are as follows:
the fabric is washed and dried naturally.
the fabric is cut manually to the size and shape of the item to be created.
this stage uses the 1633 Mangano machine to iron, compact and press the fabric.
just as in the 17th century, the main colours are made by hand in the workshop, using natural ingredients, and then mixed to obtain different shades.
every item is painted by hand.
after painting, the fabric is hung up to dry for several days.
at this stage the colour must be fixed to ensure it is resistant to washing and will retain its brightness over time.
this is the second stage of ironing the fabric before proceeding to assemble the product.
at this stage the painted fabrics are put together and sewn by hand to complete the item.
Final ironing with the mangle
after the final ironing, the item is ready for use.